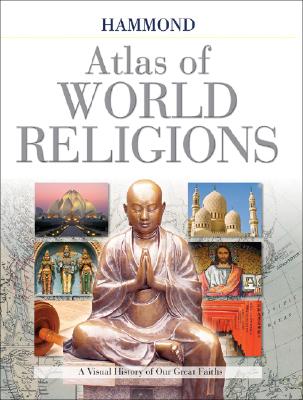 Stock Image
Author Name Murray, Aaron R.
Title Hammond Atlas of World History - A Visual History of Our Great Faiths
Binding Pictorial Glossy - Hardback
Book Condition Fine
Jacket Condition No Jacket as Issued
Size Folio - over 12" - 15" tall
Publisher Irvington, NY Hammond World Atlas Corp. 2009
ISBN Number 0843709952 / 9780843709957
Seller ID 045229
Fine and birght with no wear or markings looks new ins spoite of its age. Large: 14 3/8 inches tall by 11 inches wide by 1 & 5/8 inches thick.
More Description
The Hammond Atlas of World Religions presents a comprehensive, visually engaging and chronologically accurate assessment of religion throughout recorded human history. Because the subject is vast and complex, the book is structured in two parts. The first moves chronologically from 4,000 BC up to present day, giving an overview of geo-religious change through time. The second part details each of the major modern religions from their inception through the worship today.
Comparative Religion Reference
Price = 27.50 USD