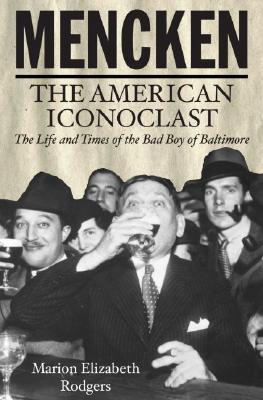 Stock Image
Author Name Rodgers, Marion
Title Mencken; The American Iconoclast the Life and Times of the Bad Boy of Baltimore - Uncorrected Advance Reading Copy
Binding Paperback
Book Condition VG Minus
Size 8vo - over 7¾" - 10" Tall
Publisher Oxford Oxford University Press 2005
ISBN Number 0195072383 / 9780195072389
Seller ID 045903
ARC in vg minus condition. No markings light cover wear advanced proof "not for sale" ... etc.
More Description
A towering figure on the American cultural landscape, H.L. Mencken stands out as one of our most influential stylists and fearless iconoclasts--the twentieth century's greatest newspaper journalist, a famous wit, and a constant figure of controversy.
Marion Elizabeth Rodgers has written the definitive biography of Mencken, the most illuminating book ever published about this giant of American letters. Rodgers captures both the public and the private man, covering the many love affairs that made him known as "The German Valentino" and his happy marriage at the age of 50 to Sara Haardt, who, despite a fatal illness, refused to become a victim and earned his deepest love. The book discusses his friendships, especially his complicated but stimulating partnership with the famed theater critic George Jean Nathan. Rodgers vividly recreates Mencken's era: the glittering tapestry of turn-of-the-century America, the roaring twenties, depressed thirties, and the home front during World War II. But the heart of the book is Mencken. When few dared to shatter complacencies, Mencken fought for civil liberties and free speech. We see the prominent role he played in the Scopes Monkey Trial, his long crusade against Prohibition, his fierce battles against press censorship, and his constant exposure of pious frauds and empty uplift. The champion of our tongue in The American Language, Mencken also played a pivotal role in defining the shape of American letters through The Smart Set and The American Mercury, magazines that introduced such writers as James Joyce, F. Scott Fitzgerald, and Langston Hughes. The paradoxes of Mencken's life are explored, as new gaps are filled regarding his notorious views of minorities and his conflict, as a German American, during two world wars. And throughout, Rodgers captures the irrepressible spirit and irreverent wit for which Mencken was famed.
Drawing on research in more than sixty archives including private collections in the United States and in Germany, previously unseen, on exclusive interviews with Mencken's friends, and on his love letters and FBI files, here is the full portrait of one of America's most colorful and influential men.
H.l. Mencken Collectible Proof
Price = 35.00 USD